Welcome To MG Fans
What is HVLS Fan ?
A High Volume Low Speed(HVLS) fan is type of mechanical fan greater than 7 feet (2.1m) in diameter. HVLS fans move slowly and distribute large amount of air at low rational speed. Hence the name...
High Volume Low Speed Fans.
Evaporates moisture on human body, gives cooling effect hence increases work comfort which leads to increased productivity & efficiency.
In the air conditioned areas, It helps in cutting down load on air conditioners.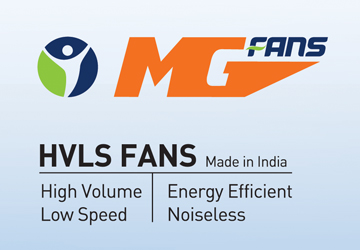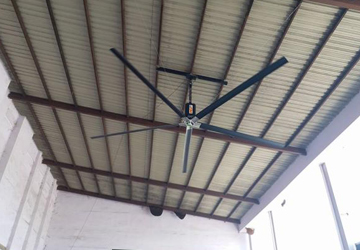 Where HVLS Fan ?
Agricultural Stock Yard
Gov. Godowns Cold Rooms
Animal and Paultary Farms
Events & Exhibition Hall
Milk Production Cente
Gymnasiums
Food Production cente
Large Worship Places
Factories
Warehouses
Airports
Railways
Why HVLS Fan ?
CAPEX savings upto 50% for a new ventilation project.
OPEX savings upto 50% due to low opertating cost.
POWER CONSUMPTION Max 1.5 kw/fan, which is lower than toaster.
NO NOISE compared to conventional high speed fans.
2 years Manufacturer WARRANTY.
Adopted by technological giants.