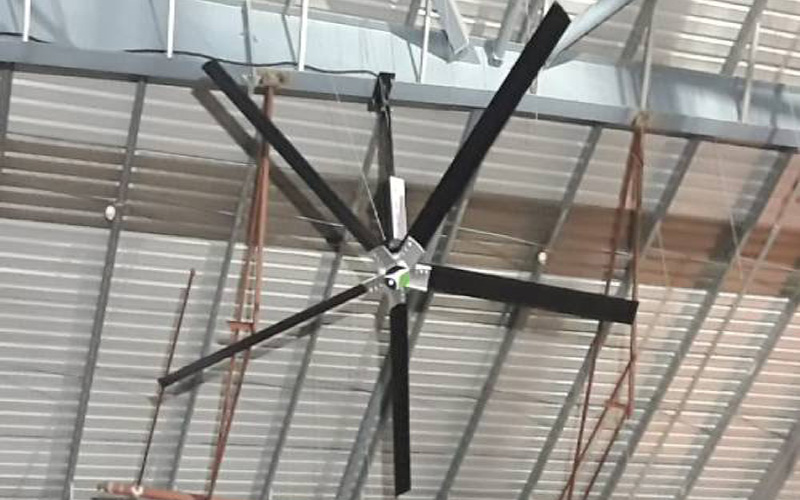 If you are looking for Big Industrial Fan, M.G. Engineers is the name to bank upon. The company is reputed as one of the leading Big Industrial Fan manufacturers and suppliers in Ahmedabad. The unmatched quality and excellent performance has attracted industrial sectors to place huge and repeated orders. we also specialize in offering customized services in accordance to the specifications provided by the buyers.
The Big Industrial Fans are praised for their efficient working at different speed levels and consuming relatively low power compared to traditional cooling systems. Features like high durability, efficient in working, noiseless operation, etc. have played important role in increasing the market demands of Big Industrial Fan in domestic and international market. There also are features like speed control, timer and sleep available in the working of the fans.
The use of excellent grade materials in the manufacturing help in delivering Big Industrial Fans that perfectly comply with the international paradigms. These are easy to operate, require low maintenance cost and have long service life. Availability at industry leading prices and timely delivery has also earned us huge clientele all across the globe. Moreover, we are one of the stupendous Big Industrial Fans Exporters in Gujarat, India.
How would you describe your company?

M.G. Fans has been into the industry for more than 18 years and endeavored quality products, earning utmost satisfaction to the buyers. The company is engaged in the manufacturing, supplying and exporting of HVLS Fans, both standard and custom-built to customers' expectation. Adopting ethical business practices, the company has acquired huge client base with more than 150 satisfied clients. Moreover, we have also outpaced out competitors as there is no alternate available to Big Industrial Fan when it comes to quality and efficiency.
What is the Big Industrial Fan?

A Big Industrial Fan is a type of mechanical fan with diameter more than 7 feet (2.1m). It is designed to move slowly and distribute large amount of air at low rational speed. The Big Industrial Fan is also known to evaporate moisture on human body, giving cool effect. This helps in increase work comfort leading to increased productivity & efficiency. Moreover, it also helps in cutting down load on air conditioners
What are the application areas for Big Industrial Fan?

The Big Industrial Fan is designed for its application for various areas. some of the sectors where our Big Industrial Fan finds huge application area Agricultural Stock Yard, Government Godowns Cold Rooms, Animal and Poultry Farms, Events & Exhibition Hall, Milk Production Center, Gymnasiums, Food Production Center, Large Worship Places, Factories, Warehouses, Airports, and Railways. The Big Industrial Fan is available in various specifications to meet the requirements of the application areas and industry standards.
What makes your Big Industrial Fan highly demanded in the market?

The Big Industrial Fan, manufactured by us, is widely demanded in the market. The reasons are as stated below:
OPEX savings upto 50% due to low operating cost.
CAPEX savings upto 50% for a new ventilation project.
Power Consumption - Max 1.5 kw/fan (lower than toaster).
No Noise in comparison to the conventional high speed fans.
Manufacturer Warranty - 2 years.
Adopted by technological giants.
What manufacturing facility is available for Big Industrial Fan?

We have three manufacturing units located at GIDC Vatva, Ahmedabad, Gujarat India. Each unit is backed with latest machines and technologies that help in the manufacturing of the Big Industrial Fan that meet the industry standards. The unit is also supported by quality checks that are performed at various stages to ensure zero manufacturing defects. Moreover, we also specialize in providing customized solutions for Big Industrial Fan.
How to order Big Industrial Fan? Is customer support available?

To place order for Big Industrial Fan you need to click on the 'Enquire Now' on the right top corner. Fill the form to 'Get A Quote'. You can also call on +91 9426180926 or drop an email at sales@mgfansindia.com. You can also visit us at 27, Shyam Ujjval Industrial Estate, Opp. State Bank of India, Phase 1, GIDC Vatva, Ahmedabad - 382445, India. In addition to this, the same process can be used to avail the customer support for Big Industrial Fan. A team of professionals is appointed to look in to your queries.
What makes you a top-notch Big Industrial Fan Manufacturers?

Customer centric approach has helped us win a huge client base in India and across the globe. We understand the requirement of the clients and provide solutions that meet them perfectly. Thus, delivering quality Big Industrial Fan at market leading prices and within the stipulated time frame has made us stand among the top-notch Big Industrial Fan Manufacturers in India. Moreover, some of our major clients are Haldiram's, BigBasket, Indian Oil, Havells, Prestige, and more.